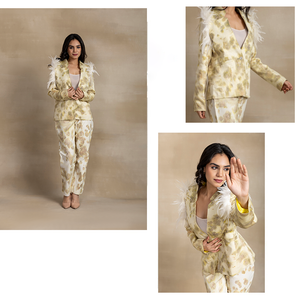 Welcome to RUHM, where fashion meets glory. Our name is derived from the German word for "glory" or "fame," symbolizing our mission to bring a touch of splendour into people's lives. Launched in May 2023, RUHM is more than just a fashion brand; it's a celebration of traditional craftsmanship and eco-conscious style. We take pride in working closely with local artisans with deep-rooted knowledge of traditional techniques. They infuse every creation with a piece of their heritage, crafting exclusive pieces that tell stories of artistry and cultural diversity. At RUHM, we embrace eco-print techniques and source pure fabrics directly from weavers dedicated exclusively to our brand. Each piece is a testament to our commitment to sustainability, style, cultural diversity and the seamless blend of tradition and modernity. Explore our collection and experience the essence of RUHM – where every thread weaves a story of glory.
TESTIMONIALS
RUHM has redefined luxury shopping for me. Their deep embroidery collections are a true masterpiece. I recently purchased a stunning embroidered saree, and the craftsmanship left me speechless. RUHM's attention to detail and commitment to quality make them my go-to destination for luxury fashion.
Neha S., Delhi
As an interior designer, I rely on top-notch decor pieces for my projects. RUHM's deep embroidery collections have been a game-changer for me. The intricate designs and high-quality materials elevate any space I work on. RUHM's diverse range of home decor items has become an essential part of my design process.
Vikram A., Gurgaon
I can't get enough of RUHM's deep embroidery collections. Their fusion of traditional craftsmanship with modern designs is exceptional. I've purchased embroidered clutches, stoles, and even exquisite embroidered table runners for special occasions. RUHM's pieces always garner compliments and attention.
Priya M., Noida